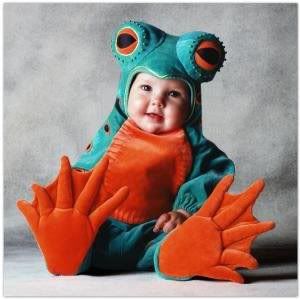 I'm pretty sure my baby won't even be able to open his eyes yet come
Halloween
, but that hasn't stopped me from drooling over the super cute baby
Halloween
costumes out there.
Baby Style
has my favorite ones by far - but they're pricey. (Mr. Frog man is $46!) But really. How freaking cute is the
shark
? Or even the Baby
T-Rex
?
Ack
. Cuteness overload.
There are also some really funny infant costumes out there. Ridiculous. But still funny. Check out the
Billion Dollar Baby
or the
Little Trees Car

Freshener
HA!
I can't wait until next
Halloween
!