I may only be 2 months in to this whole motherhood thing, but I've already found a few lifesavers among the products I registered for. And I few I wasn't even schooled enough to know about!
Now, these are just my opinion, and I know a lot of you will find better things for you and your baby - but this is what worked for us.
1.
Swaddle Me Blankets
Seriously a wonderful invention and slightly easier to use than the
Miracle Blanket
. This baby straight jacket helped tack on an extra 2 hours to
Grayson's
night time sleep. Plus, we have the fleece version, and it makes me feel like
Grayson's
staying warm.
2.
The

Moby

Wrap
Hands down, my favorite product ever.
Grayson
is a huge
snuggler
and loves to be as close to me as humanly possible at all times. While I'm all for a
snuggly
baby - I also enjoy the use of my hands. The
Moby
gives me both! There is a slight learning curve to using it, but there are tons of great 'how to' videos on You Tube if you need a refresher.
This is a good one.
If you think the fabric choices are boring - there are plenty of
CUTE options
on
etsy
. If I need to use the
Moby
outside of the house, I just tie it on before I go to avoid getting any parking lot
nasties
on me.
3.
Dwell Studio for Target Receiving Blankets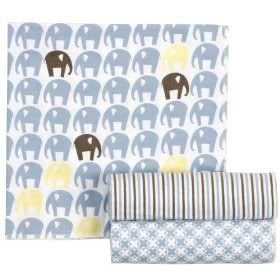 Cheap and perfectly square, these are fabulous for a nap swaddle and they look super cute covering the baby in the car seat. I have almost every variation.
4.
Inclined sleep

positioner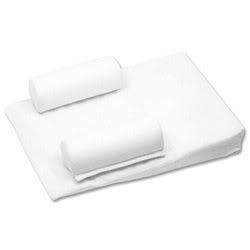 Considering how many other 'sleep' products are on my list - I must really appreciate the times baby is getting some shut eye. ;) This is another product that dramatically increased our sleep cycles.
Grayson
had a mild case of reflux when we first brought him home, and we think the incline made him feel better. We used this in the bassinet and now in the crib.
5.
Summer Infant Video Monitor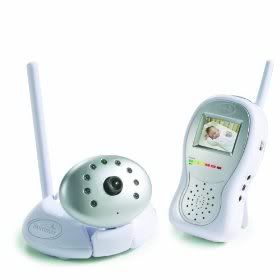 I LOVE seeing the baby now that he's in the nursery. Something about seeing him wiggle about makes me happy - and I hear it only gets better as they get older and start talking and playing in the crib. Worth every penny.
6.
Tiny Love

Gymini
Watching
Grayson
talk to his monkeys and grab at the giraffe is seriously cute. Plus, I can plop him down on the mat while I pour myself some coffee without having to worry about him falling off of anything. Anything that allows me to grab a cup of coffee gets an A+.
7.
Soft Structured Carrier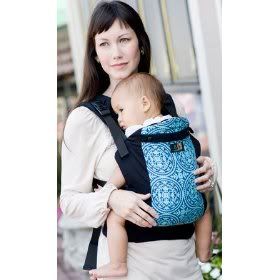 Ok
, this one is more of a category than an actual product, but it's another one of my must haves. I'm currently using an older version of this
Beco

carrier
. But I'm seriously contemplating getting a Butterfly II as well. This is my life saver when
Grayson
and I are out an about and I don't have the
moby
already tied on. There are quite a few places that just aren't stroller friendly (Hello grocery store!), and obviously I can't leave G in the car. I've heard good things about the
Ergo
and
AngelPack
, but I don't have experience with those.
8.
Diaper Champ
This one is my husband's pick, but I have to agree. Poops = stink and somehow this contraption has managed to keep the smell completely out of the room. Plus, it has "champ" in the name and I can use my own bags. A big win all around.
9.
Fisher-Price Swing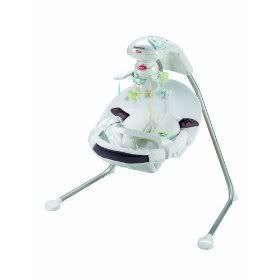 Can we say "Fabulous"? This is where
Grayson
gets in at least one of his day time naps. Not only do I get a little sleepy time out of him when he's in it - he seems to enjoy the mirror/mobile above him when he wakes up. Score! Plus, it's relatively quite and I have yet to need new batteries. I call this my 'shower chair'. Without it, I'm convinced I would be on day 56 with no shower...
10.
Born Free Bottles
With
Grayson's
reflux issues we had a LOT of spit up and vomit. Think projectile nastiness. The only bottles that seemed to help were Born Free and
Dr. Brown
. Both are
BPA
free and had great venting systems. But with 5 parts to wash the Dr. Brown bottles were a PTA! Since the Born Free bottles had 1 less part, it won the bottle battle in our house.
That's it for us at the moment - but I'm sure the list will change over time.
Do you have any products that you just can't live without?