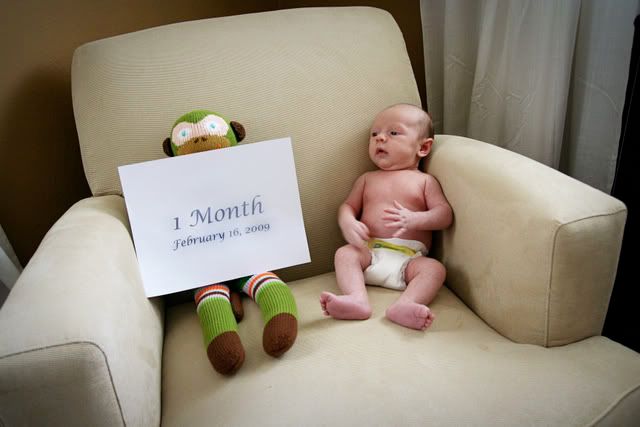 At 1 Month Grayson is:
9lbs 5.5 oz (35%) Up from 7lbs 4oz at birth.

22 1/4 in (75%)

14cm HC (25%)
is wearing newborn size diapers and a combination of newborn and 0-3 month clothing. We had to store his preemie outfits that he wore in the first two weeks and already one newborn sized sleeper

is a big eater. This little guy can mow through 4 oz like it's nothing.
is starting to lose what little hair he had on the top of his head. Hopefully it's the only time in his life that he'll have male pattern baldness.
loves his swing when we turn on the 'nature noise'. Maybe he'll be a fan of birds?
has greyish blue eyes that are getting lighter and and more blue ever day. I hope he'll have Koka's eyes.
is starting to smile, but only on his schedule. Usually I can get a smile or two in the morning during diaper changes.

has a habit of peeing all over during diaper changes. I think he's going for distance... He's peed on me exponentially more than Koka.


loves

bath time. We are now giving him on every night before he goes to bed.

is sleeping between 4-6 hours at a time during the night. (In his own crib!) Usually from about 10pm to 5am.

only likes tummy time when we do it on my chest. Then he looks at me and coos. It is ridiculously cute.
likes to be in the moby, but is still fighting the sling
falls asleep almost instantly during car rides or when the stroller is moving. He just loves the motion.

My little guy is already a month old, that's crazy!!